How to Tell If You Dog Has Worms & How To Get Rid of Them
With many people having their different stands about how often dogs should be dewormed, this topic has become a hotly debated one. But all dog owners agree that parasites pose a serious health risk on dogs and that deworming is the only way to keep our dogs parasite-free.
Regardless of the type of worm a dog catches (roundworms, hookworms, whipworms, etc.), all are capable of affecting his development and general health. Besides, an infected dog can easily transmit certain parasites to humans, especially infants. 
How do you know that your dog has worms?
Some parasites suck the dog's blood, while others cling to the intestines and feed on his nutrients. Worms present in the dog stools are among the symptoms of the infection, along with diarrhea, vomiting, weight loss, growth problems, deficiencies and rubbing or licking the anal region. Although these symptoms can be related to other problems as well, in doubt it is important to consult your vet to take the required measures. Infections especially in adult animals often go unnoticed, but still can infect the environment with eggs. Your vet or a lab can examine the faeces of your dog for worm eggs, but routine deworming is usually recommended.
Millions of dog owners use these tablets to easily deworm their dogs - Learn more HERE.

How often do you deworm your dog? 

Almost all puppies are born with worms: active larvae in the pregnant bitch can pass through the mother's placenta and the mammary glands. For that reason, experts say regular deworming in the first weeks of a puppy's life is critical. Ideally, from birth up to 2 months, you should deworm every two weeks. From two to six months, deworming must be every month. Adult dogs must be dewormed at least every three months. However, this frequency can vary from one dog to another, so it's best to consult your vet first. 
What is the best and most effective way to deworm your dog?
Regularly deworming is very easy with tablets that kill the most common worms in dogs. A drink and several deworming pastes are also available, but most of them are less effective. The broad spectrum of modern active ingredients in the tablets easily kill roundworms, hookworms and tapeworms.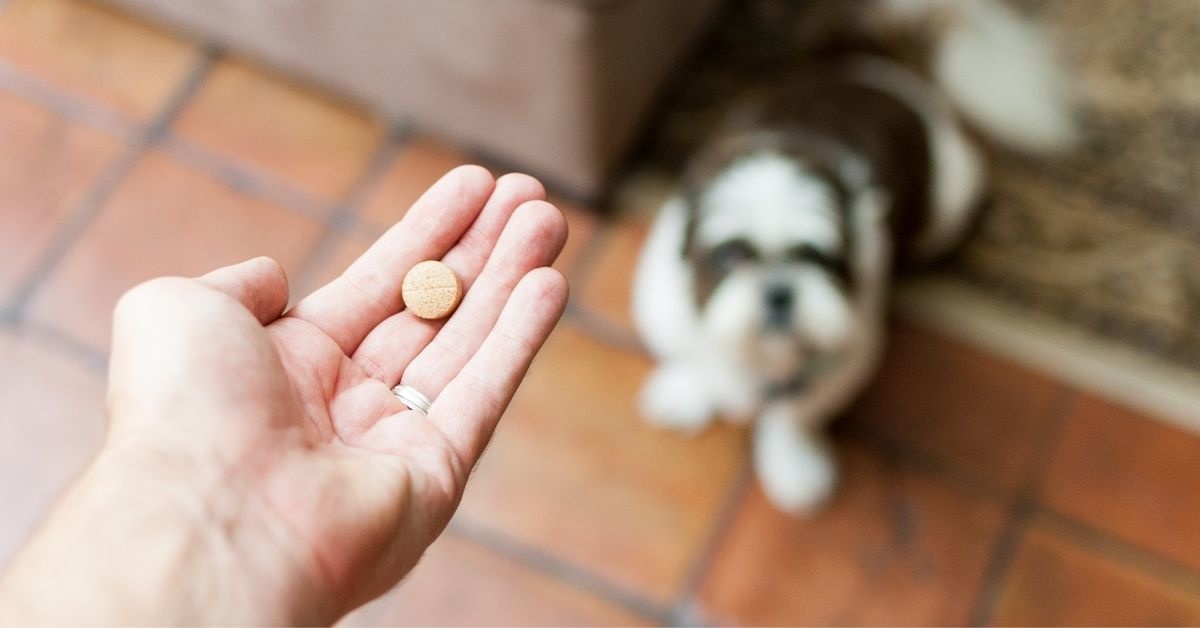 Here are some tips on how to give your dog a deworming pill

If possible, administer the tablets through tasty food or a snack like meat or cheese. Just give a snack without pills and directly after, offer a second snack with the tablets. Show a third snack to encourage the dog to swallow the second snack quickly.

If this does not work then we follow the traditional way:
Call your dog with a cheerful voice, and as soon as he arrives, play with him for a while. 
Choose a comfortable place, preferably with a wall or an obstacle behind the dog, to prevent him from escaping.
With one hand, hold the tablet between the index finger and thumb, with the other hand over the muzzle, hold firmly and press with your fingertips.
The jaw will automatically open and hang downwards, place the tablet quickly as far as possible at the base of the tongue and close his mouth. 
Massage the throat in order to encourage him to swallow.

The first few hours after a worming treatment...

"First, you need to make sure your dog completely swallows the worming tablet as some of them may try to spit out even several minutes of administration. Deworming tablets get to work rapidly, killing intestinal worms starting from around 2 to 6 hours after administration" explains Peter Henk Gijsman (DVM) from Petduka.
After worming your dog, don't be surprised to see him pass out dead worms. There is nothing to worry about. Even if they show some slight movement, they will go on to die.
Try top-reviewed and rapidly working dewormer tablets! Learn more HERE.